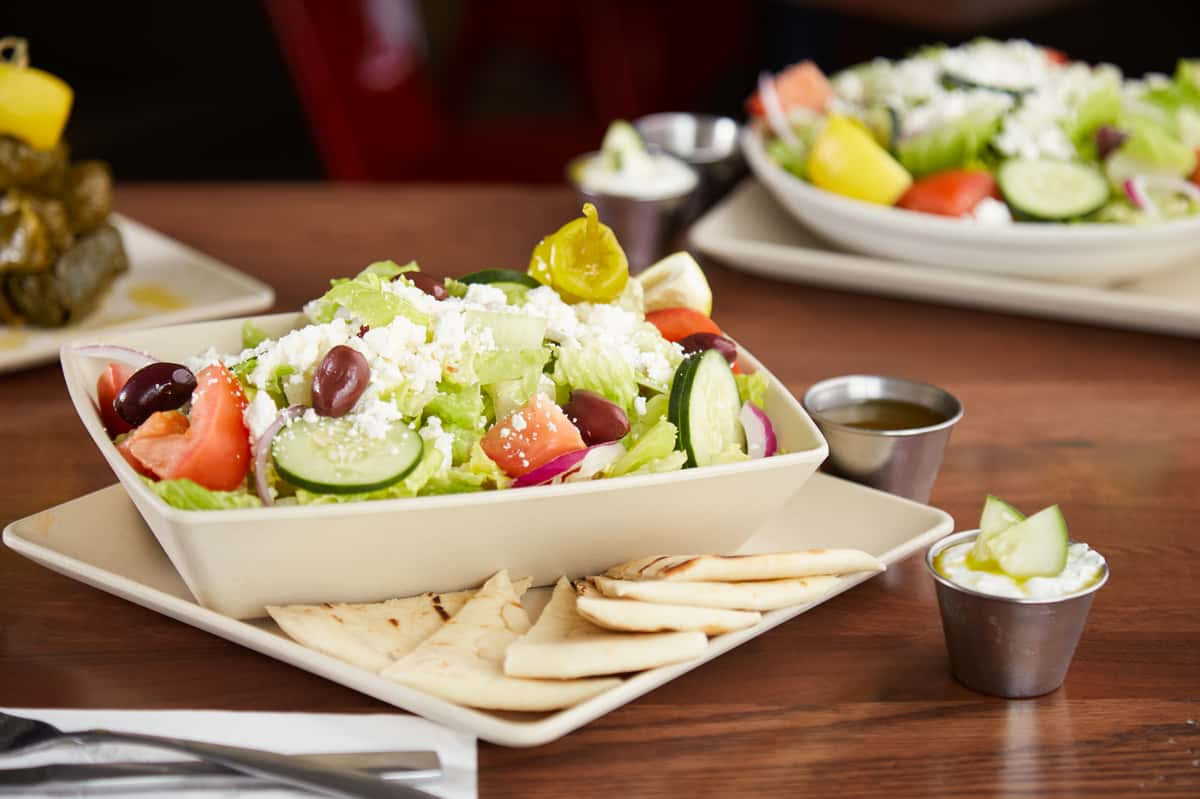 Core Menu
Join Club Gyro Rewards
Receive updates on special events, new menu items, menu reviews, and more!
Core Menu
Appetizers
Our appetizer, soup and dip selections are made daily with quality, fresh ingredients to get your meal started the right way. These traditional dishes are great for sharing or to enjoy on your own.
Classic Greek Salad
The Classic Greek Salad is delicious on its own but even more satisfying with some extras added in such as gyro meat or even a shrimp or lamb skewer. Our homemade traditional Greek vinaigrette is made fresh daily in our kitchen.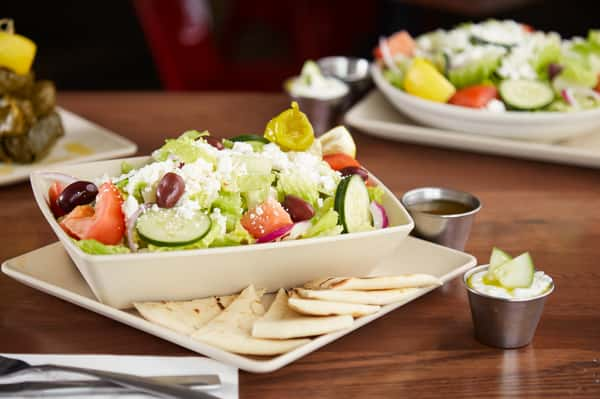 Crisp Romaine Hearts, Fresh Tomatoes, Cucumbers, Red Onions, Kalamata Olives, Greek Feta and Fresh Herbs. Optional available add-ons: Falafel, Dolmades, Gyro Meat, Chicken Breast , Steak Tenderloin, Jumbo Shrimp, Leg of Lamb, Atlantic Salmon

Our salads are served with grilled pita bread and our homemade greek vinaigrette.

Our salads are served with olives that contain pits.
Gyros & More
Whether you are in the mood for a beef/lamb or grilled chicken gyro, wrap or even an Angus burger, we have the perfect choice to satisfy your craving. Prepared fresh daily in our kitchen using family recipes, these favorites are also available as a combo with French fries, rice, feta fries, soup, or salad.
The Great Greek Rice Bowl
Part of our original menu, the original Greek Rice Bowl has rice pilaf as its foundation and can be topped with your choice of shredded lettuce, cucumbers, crumbled feta and much more. As the perfect complement, you also have the option to add a protein such as chicken, gyro, shrimp, grilled salmon, or one of our other tasty options prepared fresh daily.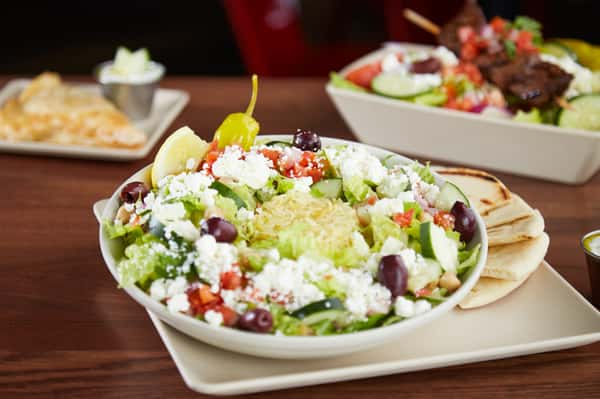 The Great Greek Rice Bowl
Choice of: Chicken Breast, Leg of Lamb*, Gyro Meat, Steak Tenderloin*, Jumbo Shrimp, Falafel, Atlantic Salmon

Rice Pilaf with Shredded Lettuce, Tomatoes, Red Onions, Cucumbers, Marinated Garbanzo Beans, Kalamata Olives, and Crumbled Feta served with Tzatziki Sauce

Featured
Entrees
Our Entrees are served with a side Greek salad, tzatziki and pita to complement these family recipes. Whether you select Grilled Garlic Shrimp or Grilled Lamb Souvlaki, we are sure you will be pleased with these traditional dishes. Includes your choice of Rice Pilaf, French Fries or Feta Fries.
Desserts
The recipes used to lovingly prepare these traditional Greek desserts have fed many generations of our family and we are confident you will love them too. In fact, we have found that we have a hard time sharing our desserts because they are just so good. We also have an assortment of extras that can be added on to any meal.
Kid's Menu
Our Kid's Meals are important here at The Great Greek because we all remember sitting at the "kiddie table" – we want everyone to enjoy their meal, regardless of their age. All Little Greek's plates are served with a small fountain drink and a choice of rice pilaf, french fries, or feta fries.

Great Greek Favorite