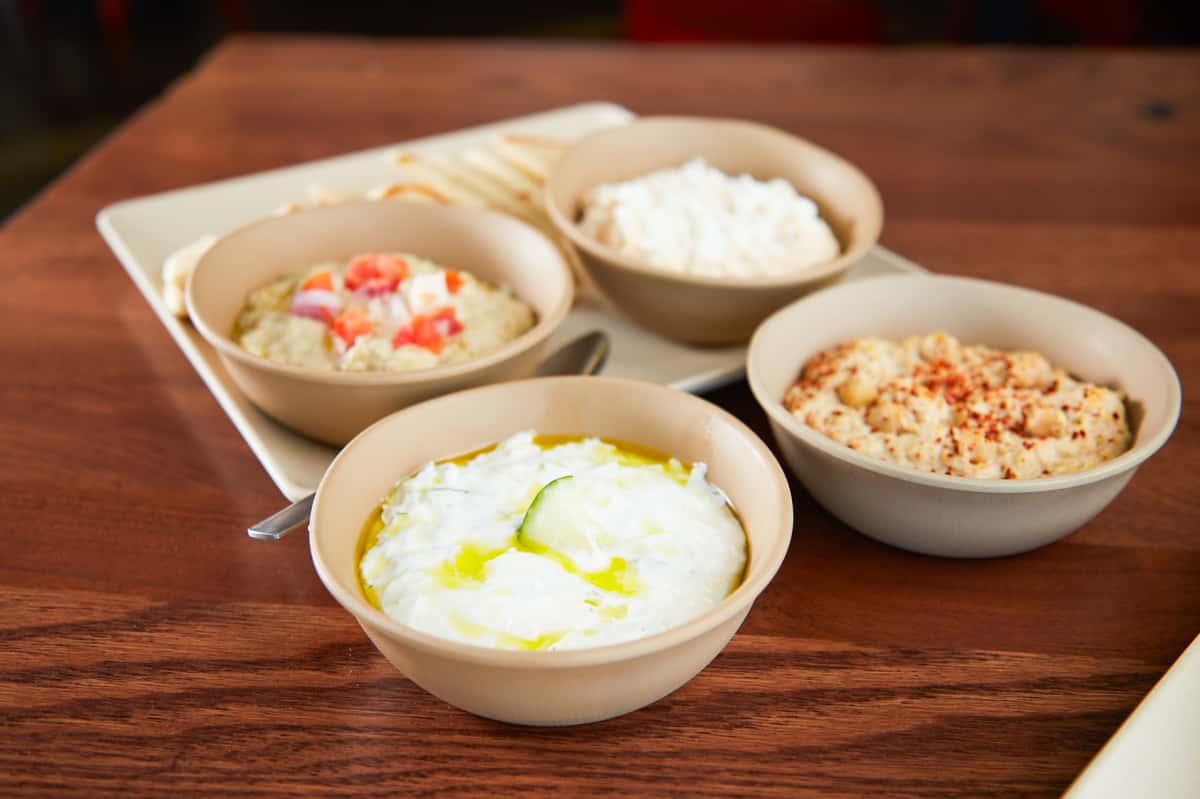 Four Dip Combo
Great Greek dips near me
Greek dips are great! They all provide some form of health benefit in some capacity. They all have one dominant ingredient with a few complimentary additions and are all packed with a ton of flavor.
This read is about four greek dips near me. Greek Yogurt, Hummus, Tirokafteri, and the Melitzanosalata dip…
Greek Yogurt
It is by far the smoothest of the four that I will be talking about today. It may be the most versatile as well. Greek Yogurt is in just about every grocery store you go to. You can pack in your lunch box, have it as a snack, place it on a party tray, grab a few carrots, celery, raw broccoli. A piece of warm pita bread is a common option used as well.
Health Benefits
High amounts of proteins
Vitamin B12
Calcium
Hummus
Of all the greek dips near me by far hummus is the most popular of the four. The chickpea (the main ingredient) is very flavorful, with a bit of nuttiness and savoriness. If you are looking for healthy to incorporate into your diet (in moderation of course), this option is worth looking into.
Health Benefits
Great for digestion
Naturally free of common food allergens such as gluten and diary
Packed with protein
Tirokafteri
Feta cheese is a national symbol for the greeks. It's their most exported food by far; they put a great deal of effort into crafting this cheese for the world to enjoy. To create the added heat element that comes with eating this spicy dish. Some take it up a notch ( or two) by adding hot sauce to it. If you are looking for a greek dip near me, that'll add some spice to your life. The buck stops here.
Health Benefits
Probiotics
Calcium
Good source of protein
Melitzanosalata
This eggplant-based dip near me is an easy addition to any dinner party. Some even have it as a side with a grilled piece of meat. No matter how you decide to incorporate it, you will not be disappointed. It's light, tasty, and packed with flavor.
Health Benefits
Rich in potassium
High in magnesium
A ton of B12 vitamins
Conclusion
So which one is the best? It depends on what your taste buds desire. If you are a person who enjoys flair in the form of spice no doubt about it, tirokafteri is the way to go. If you are in the mode for something light and refreshing greek yogurt is the lane to go down. Looking for something reliable? Hummus is the move. Versatility? Melitzanosalata should be strongly considered.
All of these dips near me bring something different to the party; room should be made for all four. Suppose your mouth is watering for a delicious dip near me. Click here to find the nearest great greek mediterranean grill near me.