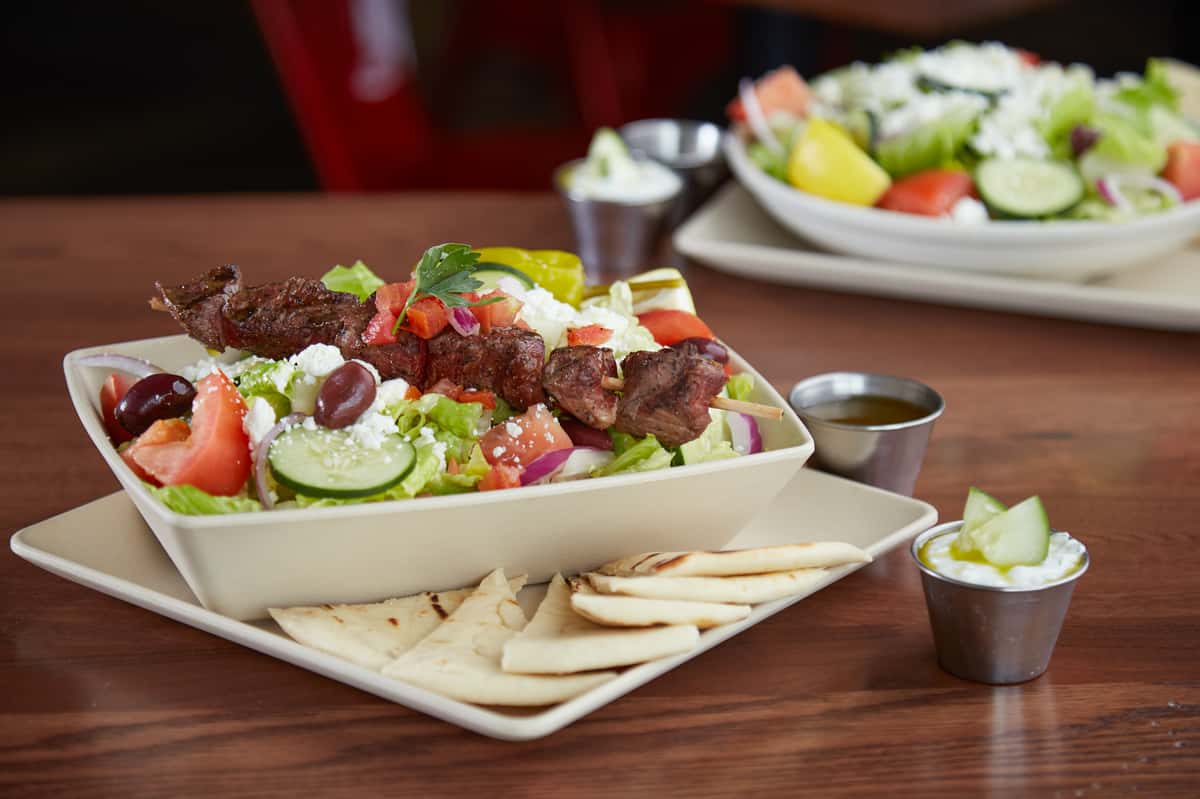 Make a Mediterranean Diet Your New Year's Resolution
Make a Mediterranean Diet Your New Year's Resolution
---
Posted on Jan 19, 2020 at 12:00 PM
---
Welcome to 2021! The best year of your life. This is the year you're going to look your best, feel your best, and accomplish all of your fitness goals - but where do you start?




A healthy lifestyle begins with a healthy diet. With so many diet fads and nutrition programs to choose from, the journey to healthy eating can feel overwhelming. Why not start with a Mediterranean diet from The Great Greek - Greek food pickup and delivery?
For the third year in a row, the Mediterranean diet has been named the best diet overall in the U.S. News & World Report annual rankings. And it isn't because it's a delicious way to lose weight!
Research consistently shows that the Mediterranean diet reduces the risk of developing heart disease, cancer, and other chronic illness. It also reduces inflammation, lowers cholesterol, and offers a good amount of antioxidants to help your body fight against free radicals.
The Mediterranean diet is so easy and delicious that healthy habits are built to last. No more February let-downs - the Mediterranean is simple to follow!
Every December, the city Thessaloniki (the second biggest city in Greece) puts up a giant Christmas tree display in Aristotelous Square. However, the largest tourist attraction is a three-masted sailing ship covered in Christmas lights. Other large boat and Christmas tree displays can be found throughout the Greek islands and large cities like Athens. This is rooted in an old Greek tradition, in which wives and children decorated ships to welcome sailors back from their sea voyages.


What is the Mediterranean diet?
When you think of Mediterranean food, your mind may travel lamb chops from Greece or even pasta and pizza from Italy. But these dishes don't fit into the healthy dietary plans as advertised in the Mediterranean diet.
A true Med-diet is based on the region's traditional fruits, vegetables, beans, nuts, seafood, olive oil, and dairy, and maybe even a glass or two of local red wine. This is what the natives of Southern Italy and Crete, Greece consumed in circa 1960, when chronic disease was the lowest in the world and life expectancy was the highest - despite limited access to medical services.
Beyond eating fresh, wholesome food, Mediterranean culture spotlights daily physical activity and sharing meals with others. Together, these elements of the traditional Mediterranean lifestyle profoundly affect mood and mental health and foster a deep appreciation for the pleasure of eating healthful and delicious foods.
How to make the change
Making changes to your diet is rarely easy, but the Mediterranean diet can be an inexpensive and satisfying way to eat healthily. Here are some suggestions to get you started:
Eat lots of vegetables. Soups, salads, and crudité platters are also great ways to load up on vegetables. Always eat breakfast. Start your day with whole grains, fruits, and fiber-rich foods to keep you pleasantly full for hours.
Consume seafood twice a week. Fish such as salmon, tuna, black cod, herring, sardines, and shellfish like oysters, mussels, and clams have amazing brain and heart health benefits.
Cook a vegetarian meal one night a week. Instead of meat, try building meals around beans, whole grains, and vegetables.
Enjoy dairy products in moderation, such as natural (unprocessed cheese) and Greek yogurt.
For dessert, eat fresh fruit like fresh figs, apples, strawberries, or grapes.
Use good fats like extra-virgin olive oil, nuts, sunflower seeds, olives, and avocados.
When you don't feel like cooking - order Greek food pickup and delivery from The Great Greek!


Making the switch from heavy pasta to avocados and fish may take some effort, but you could soon be on a path to a healthier and longer life.
Click here to start your Greek food pickup and delivery order now from The Great Greek!