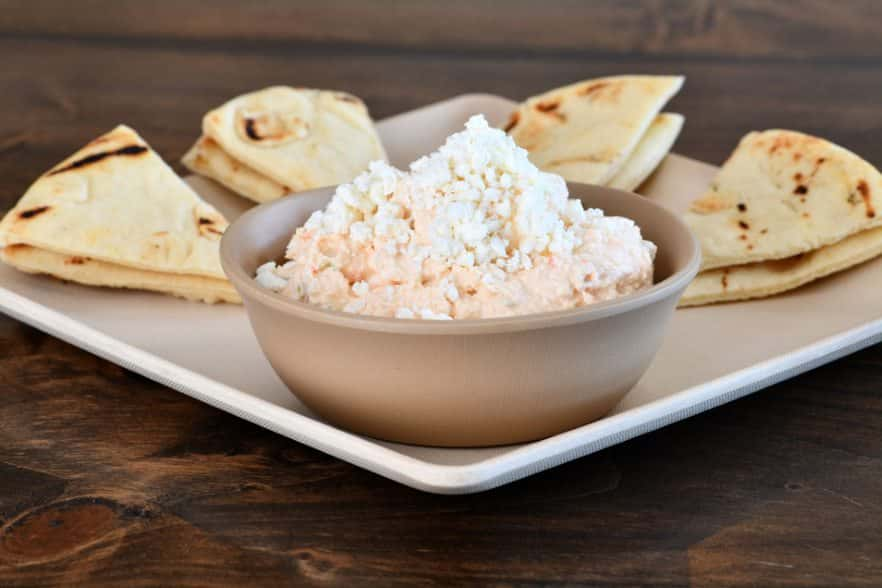 tirokafteri near me
Tirokafteri - The Spicy Feta Dip from Greece
Tirokafteri is a spicy, thick, creamy, and the perfect flavor packed greek snack to bring to any party.
Let's talk about the foundation of this dish. It is no dispute that it's feta cheese. This cheese is the pride of Greece, and it is exported more than other food out of the county.
How its made
To get that perfect bite, to taste the love, warmth, dedication, and pride of a country. It takes time; a certain percentage of goats and sheeps milk are combined with a certain technology that makes the feta cheese that we know and love. The cheese is only produced in certain areas of the country. Those areas are the greek mainland, and the greek islands of Levous, Limnos, and Agios Afstratios.
Feta so pure, no preservatives, nor antibiotics are ever added. Once the sheep and goats have been milked no more than 48 hours for that happening a semisolid state is produced. The coagulation process takes shape, the cheese is placed in molds, hardens up then it is placed into barrels or metal cans and topped with a brining liquid.
The ripening of the cheese takes place in the defined geographical area in two stages.
Stage 1
18 degrees
Up to 15 days
Stage 2
2-40 degrees
2 months
The dip
The dip is meant to be spicy, if you would like to make it minus the heat just remove these ingredients from the creation process.
This is what you need to make this yummy feta dip
1 jalapeno
1 clove of garlic
1 tablespoon of red pepper flakes
3 tablespoons of olive oil
10 ounces of feta cheese
5 ounces of greek yogurt
A great compliment to this is some warm pita bread.
Feta cheese has such amazing flavor and history. It's great on its own, but when it is transformed into a tirokafteri near me. Add some warm pita bread to the discussion then a real party is underway. If you are looking to grab some tirokafteri near me; click here to find a Great Greek Mediterranean Grill near you.